Weekend at last ... well Sunday actually and Monday is a Bank Holiday here in the UK so ... yay! A day off.
Friday could have been a difficult day, as it would have been Mum's birthday, but I was so busy that I didn't have time to dwell on it much. I went straight from work to my daughter's school where we were holding an Auction of Promises as a fundraiser for refurbishing and equipping a new ICT suite at the school. So we can raise a whole new generation of little computer geeks - I'm all for it! There were some great promises on offer from 'Chocolate Brownies - once a month for a year' (bought by the Headmaster for the Staff) to 'A Week in an Apartment in Madrid' - and everything imaginable in between. I was in charge of taking credit card payments (as I am deemed the only one nerdy enough to know how the machine works - how right they are). During the evening we raised a staggering £15,000 - which was our target.
Oh and if there are any UK based readers of my ramblings - you can help out our fundraising efforts (at no cost to yourself) by simply doing your online shopping at several well-known retailers through our
School Shop
Saturday was spent at the
Craftsmans Market
in Cirencester where I go twice a month to advertise myself and try to sell my paintings.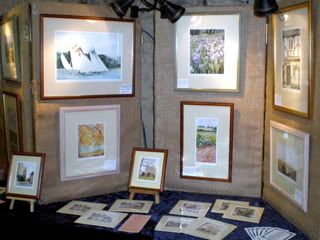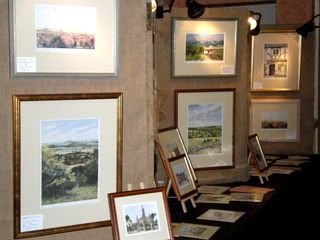 For over 25 years this Market has offered local artists and craftsmen a venue to sell their work - the standard is superb. We usually exhibit in the Corn Hall but, for good or ill this building along with the encompassing King's Head Hotel has been sold to developers who are .... er, developing it. At the moment this means that the Corn Hall is out of bounds and we have to exhibit in the stripped out King's Head Hotel - the interior of which resembles a cross between a bulding site and a non too salubrious squat. Oh well - the upside of this story is that I did sell 6 pictures ....
And finally ... those of you who were shocked and appalled not to say outraged and upset by David Hewlett's outrageous bout of 'rapping' will be glad to know that he has realised the error of his ways and has apologised ...
How does he keep a straight face? Well he is a brilliant actor - that's how - *smile*
Enjoy your weekend (what's left of it) ....
AMx